Flow Loop Multi Purpose Rig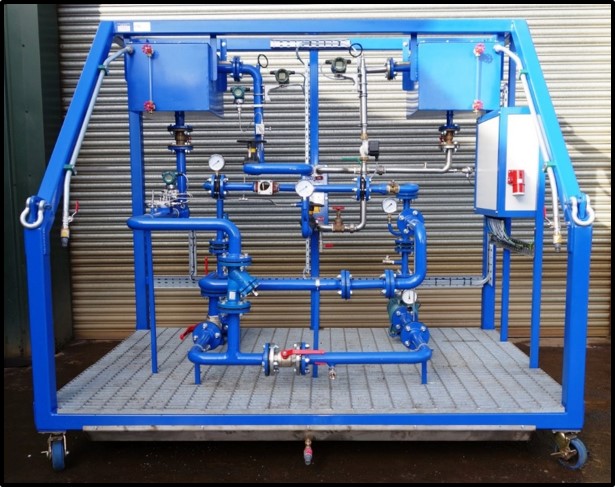 This product has been designed to provide a wide variety of training opportunities on a Flow Loop Rig which is portable enough to allow it to be utilised in a training workshop.
System designed to run at low pressure, up to 3 bar, mounted on a Beta maxi tank mobile workbench with a 5 bar aluminium worktop mounted on a Box Section Frame fitted with swivel/lockable castors and lifting points, 2.6m wide, 1.75m deep and 2.4m high.
Equipment fitted includes a stainless steel sump and drain point below open mesh flooring, 3 Phase supply control panel, Motor Start/Stop and E-Stop, 6 digital displays. Panel fitted with lockable isolator and flying lead.
Hot tank controller and indication. 2 off 0.75kW Close Coupled End Suction Centrifugal Pumps with packed glands (cold loop) – can be run individually, in parallel or in series through the use of 3-way valves , Cold loop pumps fitted double block and bleed setup, 1 off Circulating Pump (hot loop), 1 litre Plate Heat Exchanger coupled with hex unions. 
5 pressure gauges (at both the inlet and outlet of the cold pumps and on the common leg), 1 Pressure Transmitter, 1 Differential Pressure Transmitter and 2 Temperature Transmitters, Manifold valves to supply the pressure transmitters (2-way for PTx and 5-way for DPTx).
Thermocouple indication from inlet and outlet of both tanks , Ammeters connected to cold pumps, Flow Indicator & Orifice Plate c/w Manometer fittings, Isolation valves and safety relief valve on each tank , 1 ¼" & 2" mild steel pipework on cold loop , 1 ¼" stainless steel pipework on hot loop , EPDM gaskets throughout, Mixture of couplings and valves (Ball, Gate, Butterfly, Saunders), Low level fill point on each tank, Y-strainer basket filter, Sight glass on each tank, all powder coated or wet painted on completion.